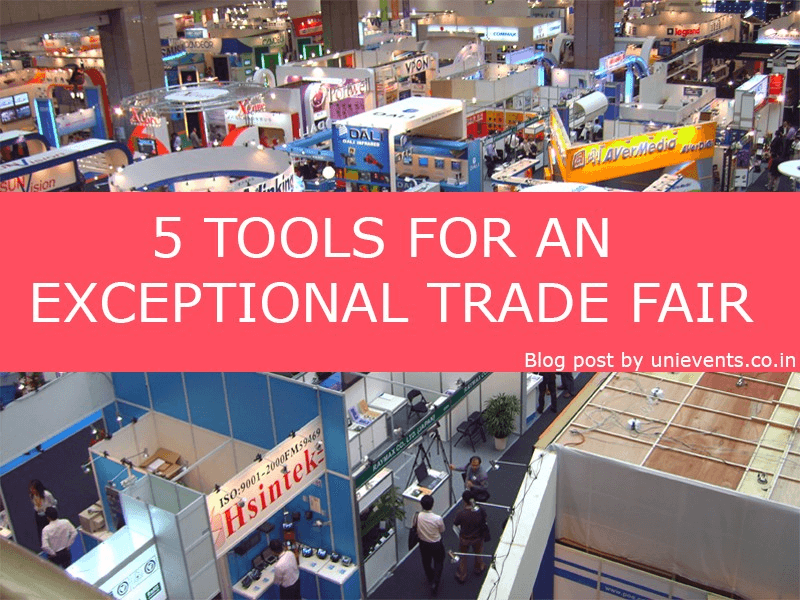 A trade fair is basically an exhibition at which the companies showcase their latest products and services. This is an excellent platform for entrepreneurs to exhibit by conducting seminars, appointing keynote speakers and social events at the trade fair in order to spread brand awareness. A large number of participants usually from different nationalities are present at the trade events which effectively aids in bringing together many related industries. The stage set-up is massive which attracts visitors and participants from around the world. This helps in widespread exposure, interactions, and extensive networking.
1. Remarkable Display:
With the help of a stand-alone presentation board and an appealing table cloth, you can attract potential clients to your brand. On the board, you can broadly mention the benefits the customers will gain by using your services. The display must be exceptionally different from the rest and should stand out in the crowd.
When alluring color and designs are used, automatically the visitors are enticed about the insides of the stall and are eager to know what the exhibitors have to offer
2. Graphical presentation:
An appealing video or slideshow presentation can be shown on the projector screens or TV monitors in your stall. The equipment can either be rented out or borrowed easily. Such graphical demonstrations can be very engaging for the crowd and can gather much attention to your brand.
For example, a Tours and Travel Co. can put up a template with the Company name and its best offers and discounts highlighted on it so that the potential clients immediately get an idea about the best rates provided and can approach the executive at the stall for further information
3. Keynote speaker:
By having a good speaker at your trade fair in India, the attendees are attracted to your brand and eager to know more about the products or services offered. An attractive speaker always makes sure to gather a decent number of crowd explaining and giving all the information about the company and its offerings.
So these speakers are experts in their fields and have qualified skills to build networking and spread brand awareness in resourceful ways. They make sure that the audience is captivated towards the Trade Fair booth.
4. Social Media Promotion:
Social Media is one of the best platforms today to show off your work in an effective manner and on a wide scale. The business can post photos of the event on all social channels before, during and after the event. You can also inform them about the event hashtag as well as the number of your booth so that it is easy for attendees to find you. In order to attract attendees, you can invite them to enter a contest, pick up giveaways or watch demo videos of the products and services.
5. Free goodies and giveaways:
What better way to attract customers rather than giving free goodies? Be completely assured that your invested money here is the best way to attract attendees. The offerings should be creative and relevant to your products and services.
For instance, you can even rent an ice cream truck or espresso machine and request everybody to taste complimentary and subsequently, hang out in your booth. Trust me everybody loves free food and soon there will be people flocking at your booth and hopefully, qualified opportunities will come your way.
For More Information Contact Unievents Services Pvt. Ltd. 344, Third Floor, Ijmima Complex Mindspace, Next To Infiniti Mall Malad(W), Mumbai – 400064. info@universalindiaevents.com M: +91 – 99200 64767